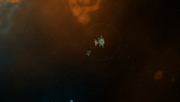 Ships in Heat Signature are generated procedurally at random. However, they have a few common features:
Features
[
]
Modular construction and destruction.
Can be hijacked if the player gets to the cockpit or mans a turret.
Ships will fire homing missiles at the player if they detect their pod.
Most ships will contain loot that can be used to upgrade the ship.